Full circle skirt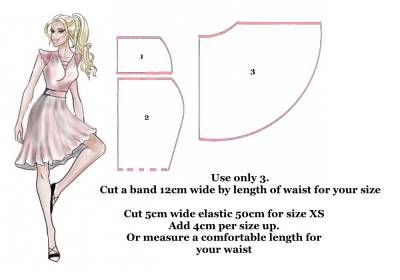 Use only pattern section 3. Measure the top of the pattern, cut a strip of fabric 12cm wide, to the match the length at the waist of the pattern. Measure your waist, cut a 5cm wide strip of knitted elastic 10cm less than your waist measurement. Sew the elastic into the casing.(video instruction available on this site. Search elastic casing). Sew the band to the skirt, stretching to fit. Hem the skirt
Pencil skirt with turnover band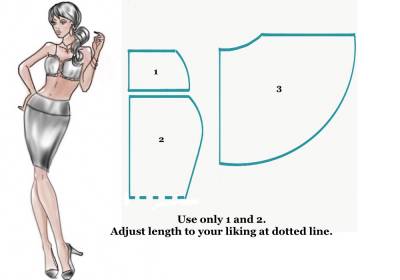 Use only sections 1 and two. Sew as for mermaid skirt, but do not add the ruffle. Hem at skirt body edge.
Circle skirt on turnover band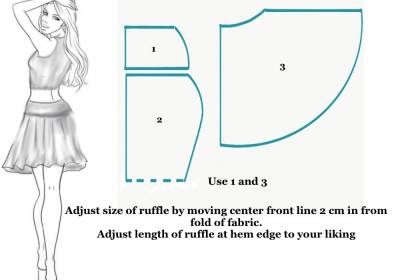 Use pattern pieces 1 and 3, in your size. Adjust the waist of the ruffle to the length of the basque base.
Aline maxi with turnover band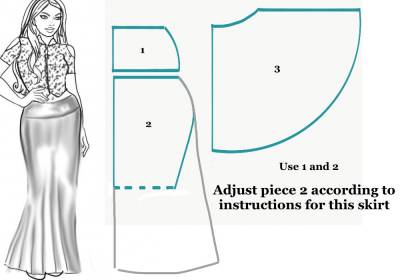 Measure the length you'd like for your skirt, but measuring from your hip line to the floor, in the shoes you prefer to wear. Extend the side line of the skirt body at an angle to create a smooth flare at the side, to the length you've measured. Use pattern pieces 1 and 2 to complete your project.
Wrap over skirt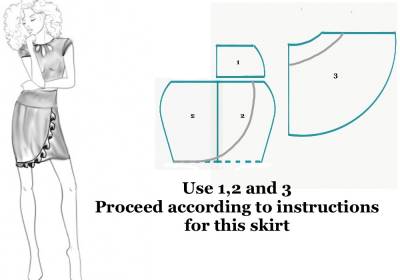 Lay the body of the skirt onto a piece of brown paper, draw the body, foldover at foldline and draw the other half. Drawing the curved edge as shown on the image. Use sections 1 and 2 of your pattern
Download Instructions