Printing your pattern
Download the pattern from Itsostylish.com. Print it out as A4 sheets using Adobe Reader in poster print mode. Select cut marks and tiling on the poster setting in Adobe Reader. Print out the Boho cropped top in your chosen size. Stick the pattern pieces together at the cut marks using clear tape
Notions
Knitted elastic 1.5cm wide. 2m
Sewing machines
Scissors
Tailor's chalk or scrap of bath soap
0.5m of knitted, lightweight fabric
Sewing thread
Computer
Adobe Reader. Adobe Reader is free to download
Printer
Printing paper
Cutting your top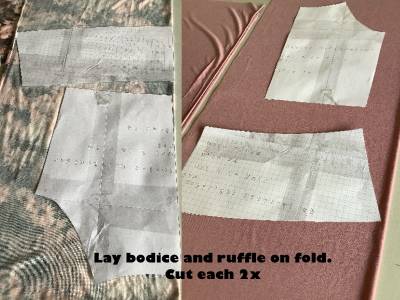 Cut 2x bodice to the fold
Cut 2x ruffle to the fold
Sewing your top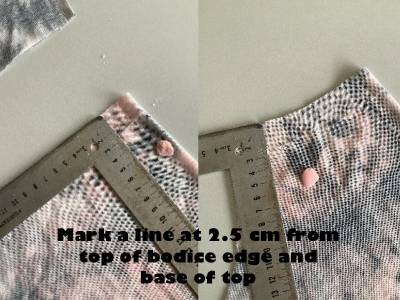 Mark a line around the base and top edge of the bodice using a scrap of bath soap, tailor's chalk or an invisible tailor's pen.
Mark a line around the top of the ruffle at 2.5 cm.
Mark these lines on the inside.
Overlock the side seams of the bodice and ruffle.
Constructing your Boho top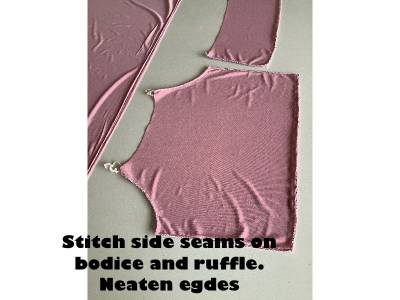 Neaten the under arm edge by overlocking then hemming using a stretch stitch on your sewing machine. Fold the hem at 1cm, allow it to fall naturally at the apex of the top, being sure to keep the hemmed edge flat and without puckering.
Pin the ruffle at the back and front center points.
Pin the top edge of the bodice at the center for the back and the front.
Pin the ruffle to the top, matching the center front and back. Wrong side of ruffle to right side of bodice.
Overlock the ruffle to the bodice matching the points pinned.
Adding the elastic to complete the top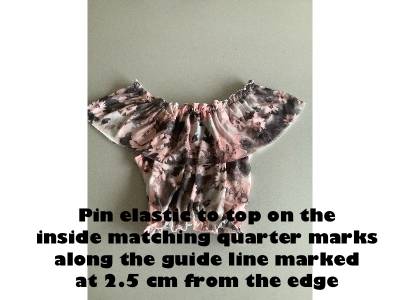 Elastic for a size 30 inch - use 1.5cm knitted elastic(ask your haberdashery supplier to ensure that you buy knitted elastic). Cut 2 pieces of elastic, top-85cm, base 40cm. Add 4cm per size. Alternatively, measure a comfortable length of elastic for your torso and around your arms and torso - it must be firm.
Sew elastic into a circle using your overlocker or plain stitch machine.
Pin elastic in quarters.
Pin the top edge of the top and base in quarters.
Pin elastic to top on the inside of the garment, matching quarters and using the guide line drawn at 2.5 cm away from the edge.
Sew elastic to the garment, stretching to fit evenly. You can use a straight stitch to complete this process.
Download Instructions